You Are Cinderella!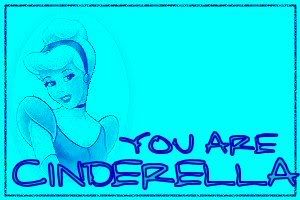 Dignified and hard working. With a gentle and soft-spoken manner you have something many people don't. Patience. Even through the moments of heartbreak you're still able to hold onto all of your hopes and dreams. Bide your time; your dream will come true.
(you scored: 11%)
You Are Jasmine!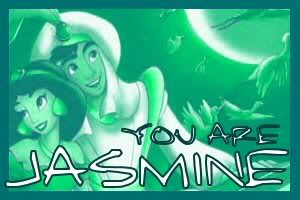 Independent and adventurous. You don't want much; just to break out of the guilded cage society has put you in and experience life to the fullest. Following orders isn't really one of your strong points, and you would rather live a life of poverty than being forced into something that you hate.
(you scored: 11%)
You Are Aurora! (A.K.A. Sleeping Beauty.)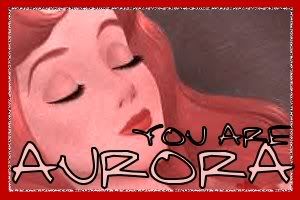 Thoughtful and loving. Authority figures probably have been sheltering you all of your life. Thankfully you're a very tranquil person who is content with what life has given you, but secretly you want to know how the outside world works.
(you scored: 11%)
You Are Belle!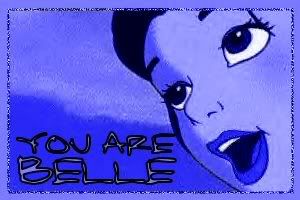 Intelligent and kind. Your beauty goes much further than your apperance. Also, you make judgements of people based on their personality and not their looks. Attaining all the knowledge that you can is one of your major goals in life, but you are also a person who can make things happen.
(you scored: 22%)
You Are Pocahantas!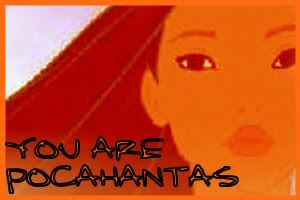 Free-spirited and wise. You have a strong passionate spirit that touches and changes all who know you. The wisdom and common sense that you have is really what guides you through life. Even so, you also have a very playful side that loves adventure and excitement.
(you scored: 22%)
You Are Megara!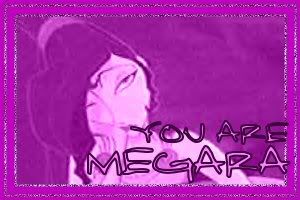 Charming and witty. You are always the first person to come up with a wisecrack. Sure, you have an attitude, but that's why people love you. You keep them on their toes. Sometimes you can be misleading, but always end up doing the right thing for the people you love.
(you scored: 11%)
You Are Esmerelda!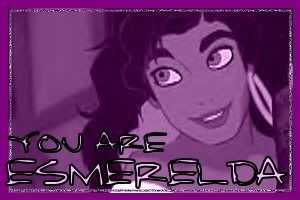 Mysterious and passionate. You are a survivor. Even though life has swung you some difficult situations you have a strong intuition that gets you through. Also, you have the capacity to sympathize and relate to a variety of different people.
(you scored: 11%)
You can find out if you are definable in 8 or so questions here, if you are so inclined.